Pangea Online Money Transfer Service $30 Sign-Up Bonus and $30 Referral Rewards
---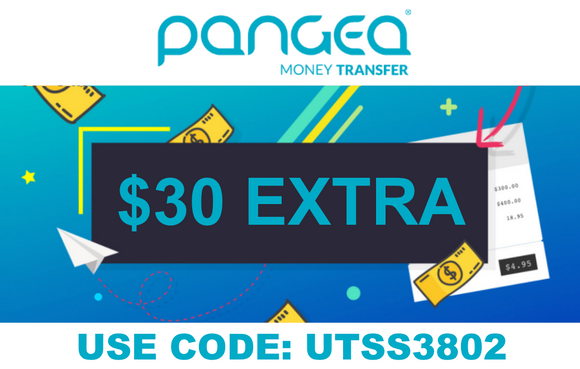 ¡Pangea Money Transfer le dará $30 de descuento en su primera transferencia además de un tipo de cambio competitivo!
¡Envíe dinero a amigos y familiares en quince países de América Latina y Asia utilizando tipos de cambio fijos y sin tarifas ocultas!



Los destinatarios pueden retirar su dinero en cualquiera de los miles de lugares o depositarlo directamente en una cuenta bancaria. Para transferencias de depósito directo, ¡el dinero puede estar disponible en minutos! Si el destinatario planea recoger el dinero en persona, recibirá un mensaje de texto con un código de transferencia único para identificarlo.
Todo sucede a través de la aplicación Pangea, por lo que no necesita compartir información confidencial con un empleado en una ubicación pública. ¡Regístrese gratis y comience rápidamente!
Después de usar nuestro enlace para crear su cuenta, confirme su teléfono y luego ingrese nuestro código de promoción UTSS3802 para reclamar su crédito de $30. Para hacerlo, abra la aplicación, haga clic en el ícono de ajustes ubicado en la esquina superior izquierda, luego elija "Agregar código de promoción" UTSS3802. ¡Asegúrese de ingresar el código de promoción antes de completar su transacción para reclamar su crédito de $30!
Pangea Money Transfer will give you $30 off your first transfer in addition to a competitive exchange rate! 
Send money to friends and family in fifteen countries across Latin America and Asia using locked-in exchange rates and no hidden fees!



Recipients can pick up their money at any of thousands of locations or have it deposited directly into a bank account.  For direct deposit transfers, the money can be available in minutes!  If the recipient plans to pick up the money in person, they will receive a text message with a unique transfer code to identify them. 
Everything happens through the Pangea app, so you don't need to share any sensitive information with a clerk in a public location.  Register for free and get started quickly!  
After you use our link to create your account, confirm your phone and then enter our promo code UTSS3802 to claim your $30 credit.  To do so, open the app, click on the gear icon located on the top left, then choose "Add Promo Code" UTSS3802.  Be sure to enter the promo code before completing your transaction to claim your $30 credit!
---
Mr. Bunny also recommends
---