MyBambu $10 Sign-up Bonus and $15 Referral Link
---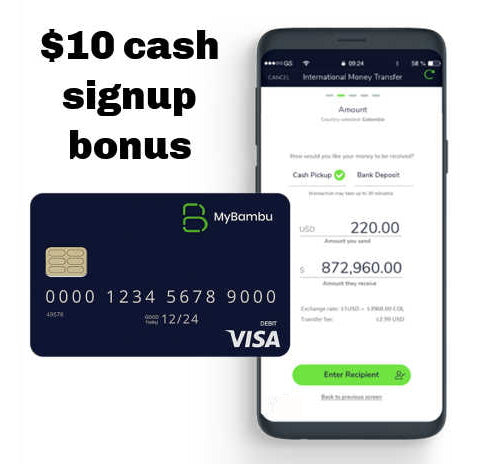 MyBambu is the newest banking app to enter the fold, and it offers a lot of great features.  Top among them is the $10 welcome bonus that you get just for signing up and the $15 referral bonus you'll earn every time a friend or family member opens an account with your unique link.
You must download the app using the invitation link and verify your account to be eligible to receive the bonus.  Joining takes less than five minutes!



Why choose MyBambu?
You can take advantage of a variety of benefits with MyBambu, including:
No deposit required.
No need to share your Social Security Number.
No monthly fees or credit check.
No overdraft fees.
Secure international money transfers.
Offers an optional physical or virtual global Visa debit card.
Bank account linking.
Optional direct deposit.
Mobile check deposit.
Peer-to-peer transfers.
Bill pay (including international).
Apple Pay and Google Pay are enabled.
Phone top-up services for all mayor US and Latin America carriers.
FDIC insured up to $250.000.
24/7 customer service.
Registration is quick and easy--it usually takes less than five minutes.  Once everything is complete, you'll receive an email or push notification.  Get started by clicking here!
Please keep in mind that once you verify your account, it can take a few business days to receive your bonus. Time flies by. Don't wait! Get started today. 
In Spanish:
MyBambu es una aplicación móvil que ofrece soluciones financieras para brindar servicios convenientes, confiables y accesibles.
Para recivir el bono usted debe the bajar la aplicación usando el link de referencia. Una vez que se halla inscrito, no olvide verificar su cuenta. Inscribirse le tomará menos de cinco minutos.



¿Por qué elegir MyBambu?

Puede aprovechar una variedad de beneficios con MyBambu, que incluyen:
No se requiere depósito.

No es necesario compartir su Número de Seguro Social.

Sin cuotas mensuales ni verificación de crédito.

Sin cargos por sobregiro.

Transferencias internacionales de dinero seguras.

Ofrece una tarjeta de débito Visa global física o virtual opcional.

Vinculación de cuentas bancarias.

Depósito directo opcional.

Depósito de cheques móvil.

Transferencias de persona a persona.

Pago de facturas (incluye internacionales).

Apple Pay y Google Pay están habilitados.

Servicios de recarga telefónica para todos los principales operadores de EE. UU. y América Latina.

FDIC asegurado hasta $250.000.

Servicio al cliente 24/7.
Lo mejor de todo es que puede ganar un bono de recomendación de $15 cada vez que un amigo o familiar abra una cuenta con su enlace exclusivo (la cuenta debe estar verificada).
¡Tenga en cuenta que el bono de $10 puede tardar unos días en llegar a su cuenta (sin incluir el fin de semana).  ¡El tiempo se pasa bien rápido! ¡No lo piense más, inscribase ya!
---
Mr. Bunny also recommends