Webull Referral Bonus – Get up to 5 Free Stocks Worth up to $2000 + up to 10 FREE Stocks Referrals
---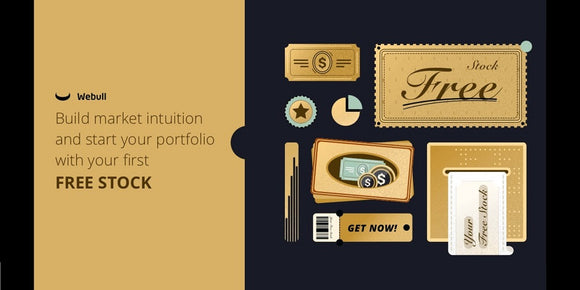 Get up to FIVE free stocks from Webull worth up to $2000.  Stocks aren't just for rich people any more!
It's free to join.  Start your investment journey with up to five free stocks.  Open an account and get a free stock!  Deposit $0.01 (just one penny) or more and get five free stocks!  Any of those stocks has a chance of being Google, Facebook, or Starbucks! 
Use this link to open your account.  You will receive one free stock (valued between $3 and $300).  Then, deposit ANY amount (it could be even one penny and get 4 additional stocks (valued between $8 and $2000).
Be sure to finish your application within 24 hours of getting started, or you won't receive your free stock(s).  It only takes a couple of minutes to apply–just don't stop in the middle!  You will need to answer a few questions about your investing experience level, goals, income level, etc.  The answers aren't all that important, but without answering those questions, your account won't officially be opened and you won't receive the bonus stock.
About Webull
Webull is a free brokerage app that lets you trade stocks for free with no minimum balance requirements or fees to open or maintain an account. Plus, if you open an account with our referral link, you'll get 5 free stocks worth up to $2000!
Fractional shares are now supported, so you can own a piece of the most expensive companies regardless of how much money you can invest. Webull is great, and always getting better!
Webull Signup Process
The process of signing up for a new Webull account is very easy:
Sign up for a Webull account using this link using your email address or phone number.
After creating your login and password, download the Webull app on your phone (app available on Android and Apple devices).
Sign into your account with the app and finish the registration process by clicking "Open Account" located at the bottom of the screen. All completely free!
Your account will go through a quick review process. Make sure you choose "Cash Account" not "Margin". Once approved, you'll earn your first free stock!
After account approval, go back in the app and deposit at least $0.01 to Webull. This is how you'll get your four additional free stocks!
To see your free stocks, click "Markets" at the bottom of the screen, click your profile picture in the top right, and select "My Free Stock"
On the "My Free Stock" page, press the "GET" button to see what you'll get.
The stocks will be credited to you account within 5 business days.
You can either keep the stock for now or sell the stock for cash.
When I did this, I got SNAP, which is the company that owns Snapchat. It's not Google, but how can you complain about getting something for free.  Best yet, SNAP has more than doubled since it was added to my account, so it's the reward that keeps on rewarding!
Webull Referral Program
Now that you have your own Webull stock account, you can take part in their referral program to earn more free stocks!
When you refer your friend, you'll get up to 10 free stocks for every person you refer. The value of each stock is between $3 and $300 (promotional offers for referrals sometimes change).
Your friend will also receive 5 free stocks based on the same requirements you used to open your Webull account – 1 free stock for completing registration and 4 additional free stocks for depositing at least $0.01.
To refer your friends, go to "My Free Stock" in the app and click on "Invite Friends" to share your referral link with your friends.
You can refer up to 100 people every month so chances are, you'll run out of friends before you run out of referral bonuses… unless you're that popular!

Take advantage of current market trends and jump in now! Get even more free stocks by referring other people!  Signing up is quick, easy, and completely free! 
Choose from several account types including Individual Brokerage Accounts and Traditional, Roth, or Rollover IRA accounts.  Stocks, options, ETFs, and Cryptos available!  Extended trading hours are supported.  Analysis tools and desktop client included.
Feel free to also check out similar offers for Robinhood, Firstrade, Public, and moomoo.
---
Mr. Bunny also recommends