Join DOSH and Get a Sign-up Bonus Plus $10 Referral Bonus
---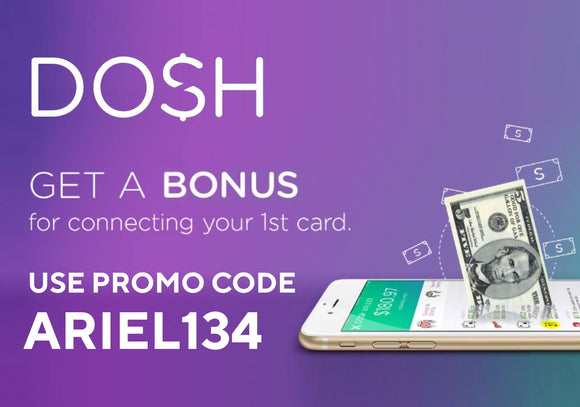 [Newest Friend Referral Offer, Updated 4/01/2022]
Dosh is a fantastic, new rebate site with tons of unique cash-back opportunities. 
Get effortless money whenever you shop and dine out at stores and restaurants near you. No points, no coupons, no receipts. Just link a card today to start getting cash back.



1. Download Dosh via our link.
2. Sign up using our friend-referral link (or enter code ARIEL134 (make sure that your registration details match your bank account information).
3. Link a valid card:
Click the settings

/gear icon located on the top left corner.

Click Accounts & Cards. Then, click Credit/Debid Cards and Conect a card.

Make a purchase of any amount with a Dosh merchant. The best option is to order anything from Groupon, so you get their discount on top of the Dosh reward. You can find many great offers. Just make sure that the credit card you use to make your purchase at Groupon is the same card linked on your Dosh account. You will receive cash back on Dosh and you will also receive the $10 welcome bonus. 
Best yet, you'll get $10 for each friend you refer! Sign up now before it's too late!
A little bit about the app:
Although it's a cash back app, you only need to make one purchase to cash out. I bought a cookie at Wendy's, and made my first $25 withdrawal (of many).  Just keep referring people and let the Rewards add up!  Spouse, kids, parents, friends, everybody needs Dosh!
You can cash out as soon as you get $25 or keep coming back for more. You could get there in 30 minutes or less!  I made $125 in a few hours on my first day!
By far the easiest app I've found to make money with!
---
Mr. Bunny also recommends
---