Free Stocks from Public Trading App Worth up to $50
---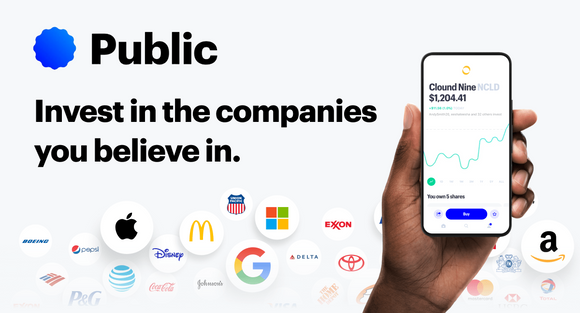 A whole new way to invest, Public is the social investing app that makes it possible to buy any stock with any amount of money – with zero commission.

User friendly: Public's tools make it easy for even inexperienced investors to plan for their future, and yet they are robust enough to satisfy seasoned investors too.
A community of investors: Follow domain experts and friends. See their investments, discover new companies, and exchange ideas.
Zero commissions: There are no account minimums, invest as much or as little as you are comfortable with.
Insured: Public is a member of FINRA and SIPC. Securities in your account are protected up to $500,000.
Partial Shares: Public allows you to purchase fractions of shares, so even if you have only a few dollars to invest, you can own a piece of Amazon, Apple, Google, Facebook, Microsoft, Alibaba, Chase, Visa, Johnson & Johnson, or others!
As an incentive to enroll new customers, Public will be distributing a free stock worth up to $50 to qualified customers who sign up with our referral link.  Eligible users will select from 1 of 9 different stocks and upon selection, a portion of that stock will be randomly designated to the user in an amount up to $50 once the account is fully approved and verified.

Public just recently increased the amount by nearly five times what they used to give! Hurry before this offer ends! No deposit required!

The sign-up process is quick and easy: 
Download the app.
Answer a few questions.
On the "Link Your Bank" step, be sure to complete this step.  You do not have to deposit anything, and there is a way to close that window without entering your information.  
Make sure you answer all of the other questions and select your interests and themes (Tech, Energy, Healthcare, etc.) to receive the promotional stock.
Once your account is approved (usually almost immediately), choose your free stock valued up to $50.
---
Mr. Bunny also recommends
---